Design contest: Endangered Animals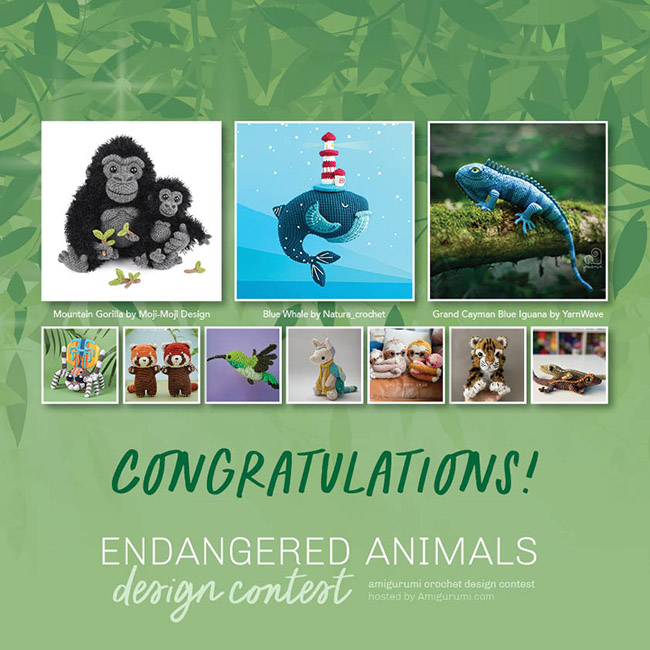 More than 12000 people chose their favorite Endangered Animal design from our contest entries!

With 1330 votes, 'Mountain Gorilla' by Moji-Moji Design is the big winner. 'Blue Whale' by Natasha Tishchenko and 'Grand Cayman Blue Iguana' by YarnWave complete the top 3.

The 7 runners-up are 'Peacock Spider' by AhookA, 'Red Panda' by Khuc Cay, 'Mangrove Hummingbird' by Thelulubal, 'Giant Armadillo / Tatu Carreta' by Amour Fou, 'Pygmy Three-Toed Sloth' by All From Jade, 'Tiger' by CrochetThingsByB and 'Crested Gecko' by Critter-iffic!

Congratulations to the winners and to everyone who participated!! All designs were impressive and beautifully made. I hope you enjoyed taking part in this contest!

You can find the complete results for all designs here.




Take a peek at the beautiful prizes!
Apart from eternal bliss and glory, we're happy to offer the 3 big winners of our contest an amazing prize package, presented by our wonderful sponsors: Furls Fiberarts, Barruntando ceramics, Yarn and Colors, GurumiSupply, Clover, Bluesparrow Handmade and Inside Crochet. Check out the prizes they offer!




3 GIFT CARDS BY FURLS FIBERARTS
Welcome to the scandalously luxurious world of Furls Fiberarts. Their hooks are guaranteed to even your stitches, relax your hands, and make the art of crochet easier, faster, and more enjoyable for you. The teardrop body shape of each Furls hook fits perfectly into the MCP joint of your hand, providing maximum hand and wrist relaxation in all crochet grips. The 3 winners of our contest will each receive an amazing $100 gift card for the entire Furls collection!

3 BEAUTIFUL YARN BOWLS BY BARRUNTANDO CERAMICS
The founders of Barruntando ceramics are breathing new life into ceramics, which results in happy and carefree designs, handcrafted using traditional materials and techniques. Each piece is unique. Their yarn bowls are beautifully detailed and designed with humor. The 3 winners of our competition will each receive a contest-exclusive wildlife yarn bowl.
3 MUST-HAVE YARN PACKAGES BY YARN AND COLORS
If our world had a yarn rainbow in it, it would surely be made of Yarn and Colors. This yarn brand has captured our hearts with its splendid range of colors. The threads are easy to work with and are simply perfect for your next amigurumi crochet project. Yarn and Colors will gift 100 colors Must-Have and 100 colors Must-Have Minis to each of the 3 winners!

3 SETS OF SAFETY EYES AND NOSES BY GURUMISUPPLY
GurumiSupply stocks a wonderful collection of amigurumi safety eyes and noses. The 3 winners of our contest will each receive a full set of safety eyes, including black, colored and special character eyes, as well as pairs of triangular noses (that's 260 items, all with washers included).
3 SETS OF CLOVER AMOUR CROCHET HOOKS
Clover crochet hooks are an exuberant rainbow - but also practical! They feature a wider and easy-to-grip handle that is warm to the touch and gives the user a comfortable finger placement. Each of the 9 sizes features a different bright and fun colored handle, the array of colors makes sizes quickly identifiable. Each of the 3 winners of our contest will receive a set of 9 Clover Amour crochet hooks!

3 ADORABLE ACCESSORY SETS BY BLUESPARROW HANDMADE
As a designer, Bluesparrow Handmade collects all of her favorite crochet accessories on her website, and we love her selection of handy and beautiful tools to make crochet work that much easier. The 3 winners of the contest will be able to show off their love for amigurumi crochet with an adorable tote bag, a handy project notebook, a sweet keyring and a precious keepsake box.




3 DIGITAL SUBSCRIPTIONS TO INSIDE CROCHET
Inside Crochet is a monthly magazine full of inspiring projects for creative crocheters. Every issue is bursting with modern patterns for women, men, children and the home, plus interesting features, reviews, news, trends and events to keep you busy until next month and beyond. The 3 winners of our competition will each receive a 12 month digital subscription to Inside Crochet magazine.




3 SETS OF 5 AMIGURUMI.COM CROCHET BOOKS

Our books series is our very own compilation of top-notch patterns from designers around the world. You'll find the cutest animals in each edition, clear instructions on how to make them and basic stitch explanations that help you along the way. Each of the 3 winners of our contest will receive 5 amigurumi crochet books of their choice!



As we love to give prizes, the 7 runner-ups in the voting will also win a beautiful yarn prize! Yarn and Colors will gift 15 colors Must-Have yarn to each of the 7 runner-ups.
Check out the entries that have been submitted
Curious to see what others have made for this contest? Check out the entries that have been submitted and approved.
---